I enjoy a photographic cliche as must as the next person. I have certainly taken my share! In any case, two of the potential consequences of shooting photographic cliches are (1) the fact that your pictures look just like everybody else's pictures and (2) the presence of other photographers!
Panoramic photographers have, in principle at least, the opportunity to make their photographs looks a little less like everybody else's images. Here's one that I took at Delicate Arch earlier this month that I think is little different from the rest of the crowd.

This scene encompasses a field-of-view of about 200 degrees, which allowed me to capture the sunset, and the light on Delicate Arch in one scene. Single-image-photographers are constrained in the field-of-view that can be captured, and this composition is impossible for them. In fact, while I was moving around and shooting this scene, there was a group of about 50 photographers camped out in the shadows opposite Delicate Arch waiting for the "perfect" sunset shot.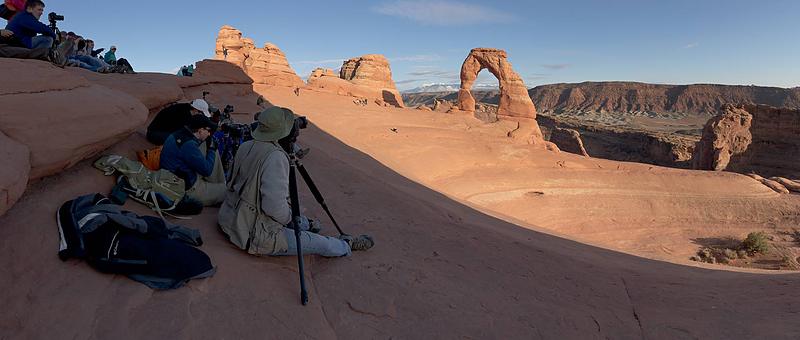 Constrained by the limited field-of-view of their lenses, this was the "obvious" composition for a single-image photographer: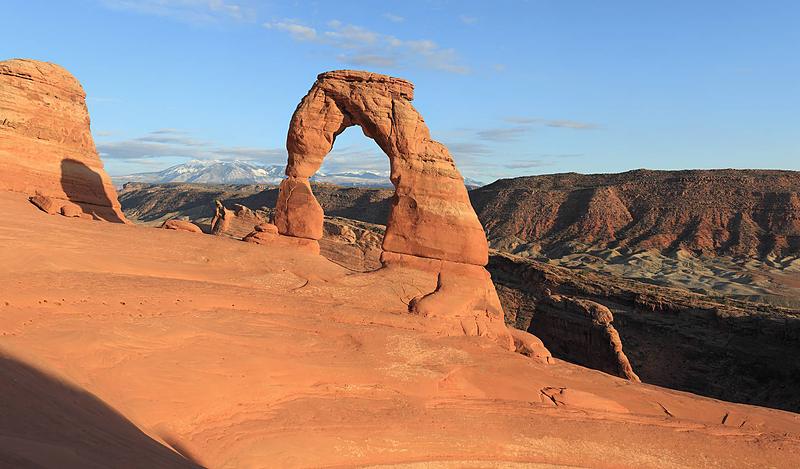 Certainly nothing to complain about, but similar to
most of the rest
. As it turns out, the sun sunk behind the clouds a few minutes before the sun actually set, and there were groans of disappointment from the assembled crowd who were denied their opportunity of capturing the very last few seconds of red light on the Arch.
And, when I can't make an image that looks different from everybody else's, or when there are simply too many other photographers around to take a unobstructed shot of the cliche...I find that moving back a couple of steps to photograph the rest of the crowd is a good consolation prize! Here are a few recent examples:



More
pictures of photographers here
.
If you have any pictures of photographers...post them here!
Max